Mar. 05, 2022
23-24 July 2020, By welding branch of mechanical engineering institute of jiangsu province, Shanghai welding association, zhejiang mechanical engineering society welding sub, welding branch of mechanical engineering institute in shandong province, hebei province, China university of mining and the mechanical engineering society welding branch of Shanghai Ge competing business consulting co., LTD., jointly organized the "China construction machinery welding technology peak BBS" was held in xuzhou suning hyatt hotel.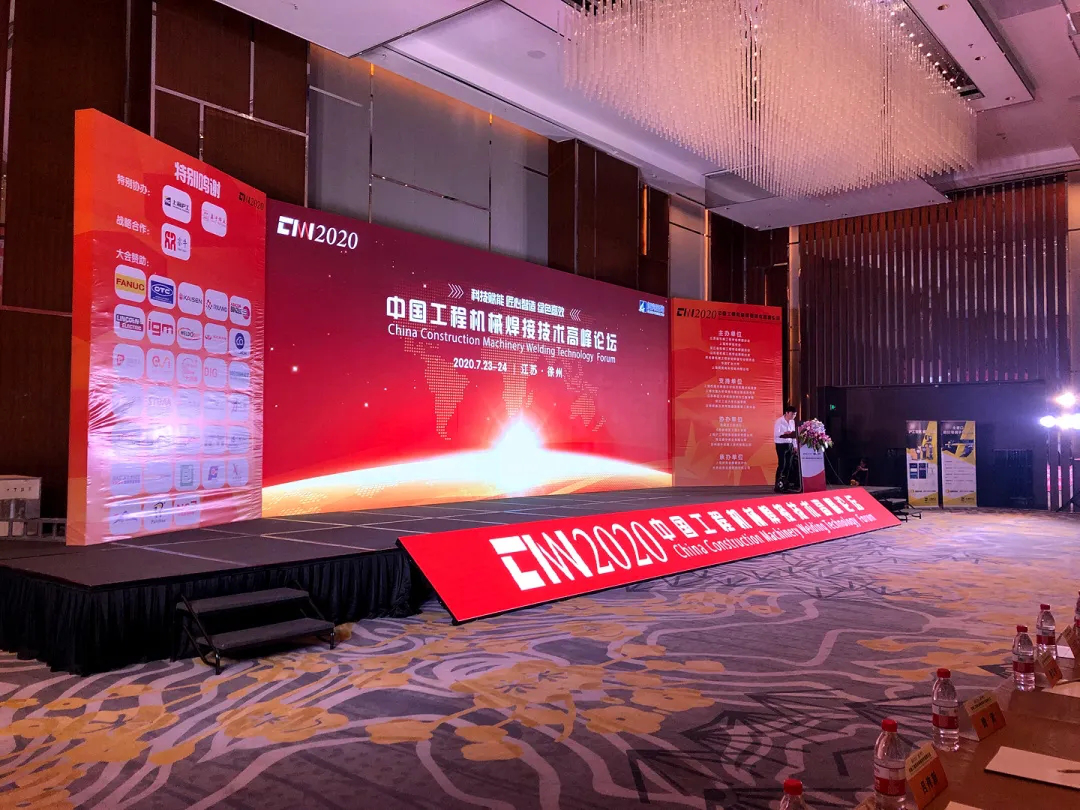 This meeting in order to "science and technology can assign originality smart green, high efficiency" as the theme, invite industry leaders, experts and scholars, such as, supporting enterprises, research institutes, colleges and universities, welding equipment, materials and other related enterprises and institutions, new materials, new processes, new equipment and welding quality control and so on question has carried on the thorough discussion and sharing. More than 560 guests attended the conference, including more than 110 oems and supporting enterprises, especially well-known enterprises in the industry represented by XCMG, SANY and Zoomlion brought their subsidiaries and bases to the conference
On the morning of 23rd, Chairman Jin Qiusheng, as the chairman of welding Committee of Hebei Mechanical Engineering Society, attended the summit forum and delivered a congratulatory speech.
23 afternoon, chief engineer Wang Hangan on behalf of Hebei Xinyu welding Co., Ltd. to do the conference technical report "construction machinery high strength steel welding wire localization application", through the experimental data and application cases elaborated xinyu non-copper-coated high strength steel welding wire use advantages and replace the import product process.

On the afternoon of the 24th, the "seminar on base materials and welding materials for construction machinery manufacturing" attracted many main engine manufacturers and supporting suppliers. Chief engineer Wang Hang'an and senior director researcher Liu Shuo of Baosteel Central Research Institute, as members of the expert group, answered relevant questions in the welding process of construction machinery structural parts.
On the evening of the 24th, Hebei Xinyu Welding Industry - construction machinery craftsman's night title dinner, in a piece of laughter opened the prelude. Mr. Jin Qiusheng, chairman of the board, congratulated the conference on its complete success, thanked the organizers for their meticulous and thoughtful arrangements, and extended an invitation to all participants to attend the 2021 Beijing-Tianjin-Hebei Welding Technology Summit Forum.
Hebei Xinyu welding Co., LTD., as a domestic enterprise specializing in the production of copper-free high strength steel welding material, has been committed to the research and development of welding material new products, to solve the pain points of industry development, to provide you with the most professional welding technology solutions. Xinyu welding material is a professional brand of high strength steel welding material in China